The Beginners Guide to Intarsia Crochet Colorwork
Have you been eyeing all the beautiful color-changing crochet patterns but convinced you need to have special powers to make them? Change your thinking right now – you can learn how to intarsia crochet!
There are a few different types of crochet colorwork, and I'm here to make sense of them for you. It's important that you learn crochet colorwork techniques so that you can feel confident the next time a beautiful pattern catches your eye.
I want you to say "YES! I can't wait to make that!" instead of "I wish I could do that."
If you can change colors with crochet, then you can absolutely tackle intarsia crochet and other colorwork techniques. Let's get started!
What is Intarsia Crochet?
Intarsia crochet is a technique that allows you to create a design within your project by changing colors. Specifically, when you change colors using the intarsia crochet technique, the color you aren't currently using is left loose behind your work. You don't cut the yarn, and instead, pick it back up when it's time to switch back to that color.
Intarsia crochet is a no-fuss way to change colors because you don't have to mess with the unused color's yarn tail.
It is often easy to confuse intarsia with tapestry crochet because they are very similar. In fact, many projects can be crocheted using either intarsia or tapestry crochet techniques. I'll explain a little later which projects are best and worst for intarsia crochet.
The vocabulary around these colorwork techniques is not as important as mastering how to hold onto your project, hook, and multiple strands of yarn. Once you get the hang of that and know what works best for which type of project, you can take your pick or even combine the two.
How to Get Started with Intarsia Crochet?
To get started, you need two or more color yarns, a crochet hook, and optionally a pattern. If you don't have a pattern, I've got a sample coaster project we can make together.
You can grab any yarn from your stash, but I'd suggest a worsted or bulky weight yarn so that it's easy to handle.
I've got my:
H-8 (5mm) hook
Caron One Pound in two colors
Start with the Chart
For our sample project, this rectangle can be used as a coaster when completed. Let's take a look at the chart
The odd-numbered rows are considered the Right Side of the piece, so if you are left-handed like me, read these rows from left to right. Righties, read these rows from right to left.
Alternate directions when reading the wrong side rows, so essentially you're zig-zagging through the chart as you go along.
Unless noted in the pattern, colorwork charts are read from the bottom up.
Use the Written Instructions
Many colorwork crocheters prefer to follow written instructions, so if this is you – that's great!
NOTE: Since this is an asymmetrical pattern, it's important to know that right and left-handed crocheters will make mirror images of this pattern when following the written instructions. Lefties can reverse what is considered the right and wrong sides in order to match the right-handed version.
Abbreviations:
sc – single crochet
ch – chain
Notes:
Ch 1 at the beginning of a row does not count as a stitch
For the chart above, here are the instructions:
Row 1: In color A, foundation single crochet 19 (or chain 20, single crochet in 2nd chain from the hook, sc to end of the row). Turn.
Row 2: ch 1, sc in each chain. Turn. (19)
Row 3-4: repeat row 2
Row 5: ch 1, sc 6, change to color B, sc 7, change to color A, sc 6. Turn. (19)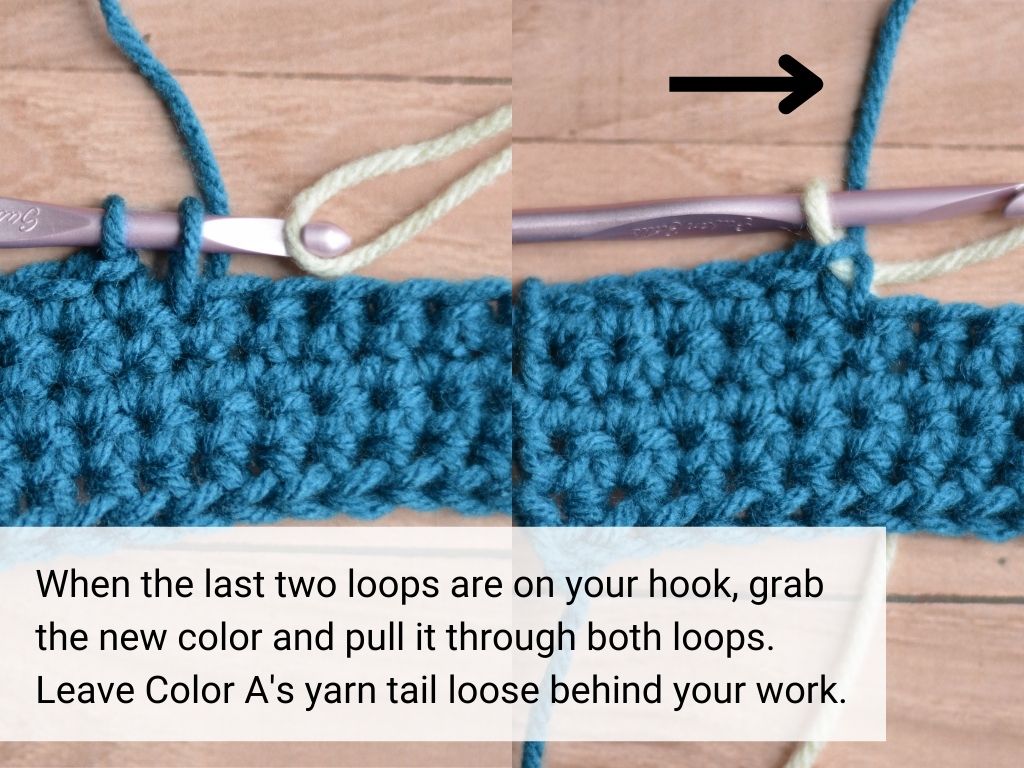 Row 6: ch 1, sc 7, change to color B, sc 6, change to color A, sc 6. Turn. (19)
Row 7: ch 1, sc 6, change to color B, sc 5, change to color A, sc 8. Turn. (19)
Row 8: ch 1, sc 9, change to color B, sc 4, change to color A, sc 6. Turn. (19)
Row 9: ch 1, sc 6, change to color B, sc 3, change to color A, sc 10. Turn. (19)
Row 10: ch 1, sc 11, change to color B, sc 2, change to color A, sc 6. Turn. (19)
Row 11: ch 1, sc 6, change to color B, sc 1, change to color A, sc 12. Turn. (19)
Row 12-15: repeat row 2
Fasten off and weave in ends.
Tips for Success with Intarsia Crochet
These are a few things I wish I had known when I started learning intarsia crochet
Use multiple skeins or bobbins of each color to help reduce tangles (especially when there are more than two colors)

Keep your tension comfortable – when changing colors, don't pull the new color super tight, otherwise, your project may not lay flat

The unused yarn along the back is often referred to as a "float"
When following the chart, alternate reading from right to left and left to right for each row (one way for the right side, and the opposite for the wrong side)
When following the written instructions for asymmetrical patterns, left-handed crocheters can reverse what are considered the right and wrong side rows in order to make the same piece as a right-handed crocheter, otherwise, they will have mirror images
Keep your floats on the wrong side of your work
Always keep the yarn tails on the Wrong Side, which means you will pull the unused tail to the front side of your project when working a wrong side row
Common Questions/FAQ About Intarsia Crochet
What projects work best for intarsia crochet?
Intarsia crochet is best used for one-sided projects, like wall hangings, amigurumi, rugs, garments, hats, table runners, etc. Because the unused yarn, or floats, is not crocheted into the project, you can use intarsia crochet for any project that does not need to be visible from both sides.
What projects do not work well with intarsia crochet?
Intarsia crochet does not work well with projects that need to be two-sided, such as blankets, scarves, shawls, and wraps. It also should not be used when color changes span long sections. The floats can get snagged on things if they're too long, so for things like hats and garments, I recommend using a mix of intarsia and tapestry crochet to prevent the floats from getting too long.
Is there a limit to the number of colors that can be used?
No, you can use any number of colors you want with intarsia crochet projects. Find your most colorful projects and jump right in!
How do you keep the yarn from getting tangled?
Using multiple skeins or bobbins of yarn for all the colors is a great technique for preventing yarn tangles. The cheapest way to do this is to cut several long sections from your yarn skein and wind them into balls. You can go without bobbins and work to keep your skeins untangled, but frequent color changes or several colors can start to get messy pretty quickly.
Alternatively, you can purchase or make yarn bobbins and wind your long sections around each bobbin. Here are a few different options for holding your yarn depending on the needs of your project.
How do I follow an intarsia crochet chart?
When following colorwork charts, it's important to know that left-handed and right-handed crochets will read them in opposite directions in order to achieve the same look.
Usually, the pattern will specify which direction to start, but not always. I typically see the following:
Right-handed crocheters read the chart from right to left for the right side rows, and left to right for the wrong side rows
Left-handed crocheters read the chart from left to right for right side rows, and right to left for wrong side rows
If you follow the written directions, right- and left-handers will make a mirror of each other.
The Last Thing You Need to Know about Intarsia Crochet
I hope that this tutorial has demystified intarsia crochet for you! Continue to practice and keep an eye on your tension during the color changes. You can always loosen them up just a little bit after you've pulled the new color through. It takes a little bit of fiddling to get used to juggling the yarn back and forth, but I find it easier than crocheting over the unused colors.
What do you think? Was this helpful? Comment below with something you found most helpful or another tip you have for successful intarsia crochet.